George England (Classical Guitar)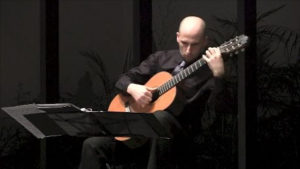 Guitarist and lutenist George England grew up in an artistic home steeped in the traditions of American folk and jazz music. His relationship with the guitar is exploratory, as his performances often include works from the Renaissance to the present day on modern and historical period instruments in both solo and ensemble settings.
George was awarded a Fender Instruments Corporation Grant in 2004 to study jazz at the Berklee School of Music in Boston and the Andrés Segovia Memorial Endowment in 2005 to pursue classical guitar at California State University Northridge. In 2008 he was a finalist in the Sierra Nevada International Solo Guitar Competition and received 1st Prize at the Festival of New American Music Performer's Competition in Sacramento, California.
George currently lives in New York City and is a Doctoral Candidate in guitar performance at Stony Brook University. He is active as lutenist and guitarist with the Stony Brook Baroque Players, with his trio Third Person Narrative, alongside cellist Phuc Phan and clarinetist, David Gazaille, and he frequently performs with soprano Kathleen Elizabeth O'Rourke.
George's teaching career includes engagements ranging from private studio work to lecturing university courses. He has adjudicated at the Junior Bach Festival in Berkeley, California, the Stony Brook Pre-College Concerto Competition, and has lead the guitar ensembles at CSUS. He has lectured at CSUN and Yuba Community College and has developed guitar programs at the Music Stream Center, Sacramento School of Music, Stockton School of Music, Claremont Community School of Music, and was creator and sole proprietor of the Sacramento Guitar Institute. In addition to teaching at the Great Neck Music Conservatory, George is on the faculty of the Music Conservatory of Westchester where he leads a growing studio of Suzuki Guitar Students.
George holds a Master of Music from California State University Sacramento (CSUS) and a Bachelor of Music, Cum Laude, from California State University Northridge (CSUN).