We Are Always Proud Of Our Students! Our goal is to help instill a love for music and the arts that we hope will last a lifetime. For most of our students, this passion for music will be expressed as a lifetime enrichment and deeper understanding of humanity. For a few it will also become a profession.

We applaud every one of our students for their dedication to learning an instrument at any level (a challenging and infinitely rewarding endeavor).

The following is news from some of our more active students. Have news to share to share? We would love to post it –even if you just want to brag that you finally learned the opening bars to that dream piece you always wanted to play!
News of the day…
Scott (piano; GNMC graduate 2015) – Scott is making musical waves at Yale University as a vocal member of The Yale Spizzwinks(?), the oldest underclassmen a cappella group in the United States. This past year he toured internationally with the group and composed many of the group's vocal arrangements.
Maxim (piano) – Maxim's summer months have included concerts in some of the most magnificent halls of China, Kazakhstan, Russia, Germany, Italy, France, and of course here in the USA. In addition to traveling for concerts, highlights this year have included playing as soloist with seven different orchestras, several performances and a CNN interview with superstar pianist Lang Lang, and chamber music with prominent musicians. This fall Maxim is looking forward to a performance with the Moscow Philharmonic Orchestra at the Tchaikovsky Concert Hall in Moscow, and a debut performance in Carnegie Hall's Zankel Hall on October 20th through Musical Olympus.
Darius (piano) – Darius (age 10) has had a great year on the piano! He is one of the youngest ever selected for New York's Annual NYSSMA Piano Showcase, and in December will travel to Rochester to perform in the 2016 All State Winter Conference. Darius was the Grand-Prix Winner in the Concert Festival Concerto Competition. As a result, he will have the opportunity to perform the first movement of Beethoven 1st Concerto with the Concert Festival Orchestra in October. This past spring Darius also won the Oyster Bay Talent Competition, and performed at Carnegie Hall as a winner in the American Protege International Piano Competition.
Teddy (voice and piano) – Teddy (age 17) was awarded the prestigious Bel Canto Institute's Performance Award this summer in Italy! The award included a week long tour of performances in upstate New York.
Katherine (violin) – Katherine (age 11) was selected and performed as the concertmaster of both the Metropolitan Youth Orchestra (MYO) and the Long Island String Festival Association in various performances this past year. She also attended the Oyster Bay Music Festival this summer, performing in multiple venues throughout Oyster Bay, Long Island.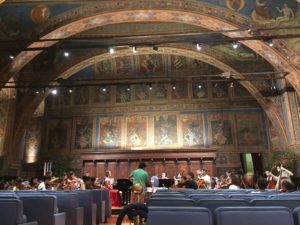 Amy (piano) – This summer Amy (age 13) was selected through the concerto auditions at Music Fest Perugia (Italy) to perform the first movement of Beethoven 2nd Piano Concerto with the Alicante Symphony Orchestra. She gave two fantastic performances, including one in the beautiful Sala dei Notori! While at Music Fest Perugia, Amy also performed Chopin 2nd Scherzo, and had lessons with renown piano faculty from all over the world. Earlier this summer, Amy had the opportunity to play Beethoven 2nd Piano Concerto at Oyster Bay Music Festival accompanied by the OBMF Chamber Orchestra. In 2014, Amy was selected as one of three lead pianists in the 101 Pianists with Lang Lang at the Tilles Center for the Performing Arts.
Solomon (clarinet; GNMC graduate 2015) – Solomon (left), a sophomore at the Crane School of Music, performed beautifully in several trios and as a soloist in Italy at Music Fest Perugia this summer. He also gained valuable work experience as a paid intern at Oyster Bay Music Festival.
Jeffrey (piano) – This past spring, Jeffrey's chamber group (8th grade) was selected through audition by the Chamber Music Society of Lincoln Center to participate in the Young Ensembles Program at Lincoln Center.
Edella (piano) – Edella (age 15) performed the first movement of Mendelssohn Piano Concerto during the First Play concert with the Alicante Symphony Orchestra in Italy. She also had the opportunity to perform a solo and study with Music Fest Perugia faculty. Edella has attended the Manhattan School of Music Pre-College Division for the past two years, but like many of our students she maintains a close connection with GNMC, and regularly attends weekly group classes.
Vincent (piano) – Vincent attended the Oyster Bay Music Festival and gave stellar performances at the Waterfront Center, Christ Church, and for several very appreciative senior organizations this summer. Vincent (age 11) was also awarded Silver Prize at the Golden Music Festival.
Nicholas (cello) – Nicholas (age 15) attended both Ithaca College Music Academy and Oyster Bay Music Festival this summer, where he performed as a soloist and in various chamber music groups. He also plays electric bass in a rock band that won Great Neck South High's "Battle of the Bands" this past year.
Alicia (piano) – Alicia (age 12) won the Grand Prix at the Talented Young Musician Competition, organized by International Music and Art Society. This summer she attended and performed at the Oyster Bay Music Festival on Long Island.
Madeleine (piano; GNMC graduate 2016) – Madeleine performed a fabulous Rachmaninoff Piano Concerto nº 2 with the Great Neck Symphony Orchestra this past spring.