Summer Music In Italy – For High School Students & Adults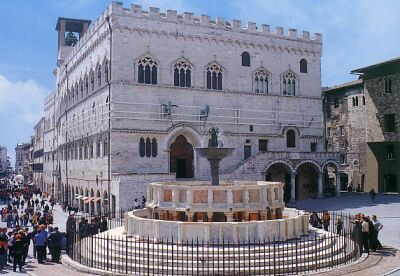 View our trip to Italy in 2012 here.

Check soon for information on our upcoming trip to Italy 2013!
Join Great Neck Music Conservatory Directors Pippa Borisy and Vadim Lando in a musical summer adventure you will never forget in Italy! This is a very special summer program for high school music students, college music students, music teachers and any adult who loves music.
The "Corsi Internazionali di Musica" happens from July 1st to 15th 2012, and will take place in Perugia -the capital city of the region of Umbria in central Italy, and the capital of the province of Perugia, located about 102 mi north of Rome.
The course will take place at the Sant'anna of Perugia Institute for Cultural Education, which has very old origins! The complex was in fact founded in the fourteenth century as a female monastery of the Santa Chiara order, and contains portions of frescos still visible today.
Students will live in modern, attractive double and triple rooms in hotels with private baths. A very limited amount of single rooms are available for a supplement. There are also options for those who wish to stay in luxurious hotels.
Masterclasses will be offered in piano, voice, strings, clarinet, saxophone and even piano pedagogy. The course is ideal for serious music students in high school or college; adult amateurs who wants to be surrounded by music and musical ideas; and music teachers. High school and college students who are not as comfortable with performing but interested in culture, art and music are also encouraged to attend as auditors. They will be treated to a stimulating, educational and highly enjoyable adventure in Italy.
A wonderful added bonus of this trip will be the famed Umbria Jazz Festival taking place in Perugia from July 6th  to 15th. Corsi Internazionali di Music participants will have the opportunity to enjoy many of the free Umbria Jazz concerts as well as a possible collaboration between the two festivals.
Read more about the Piano and the Clarinet programs to learn more about what GNMC Directors will be covering, or call us at (516) 466-3994 for more information.