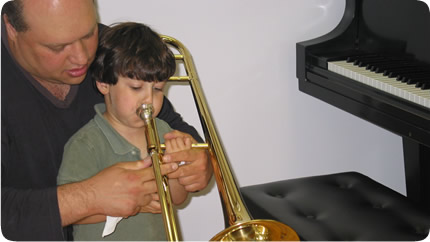 GNMCs MEET THE ORCHESTRA
Instructor: GNMC Faculty
Call for days and times
Parents are welcome to attend
Explore the instruments of the symphony orchestra, along with folk instruments of the world. Children in this class will meet and listen to guest performers on a variety of instruments, watch close up demonstrations of how each instrument works and enjoy many opportunities to actually play the instruments themselves. Wind instruments such as a trombone or trumpet may be introduced in one class, and string instruments (with small sized violins for each student) in the next. Students will see and hear the many different types of clarinets and saxophones, explore the insides of the piano and harpsichord, and pluck strings on the double bass and guitar. Have you ever played a didgeridoo, King David harp or baliphone? These are only a few of the folk instruments that will be explored. The class promises something new for everyone parents included!
Ages 3-5
Younger students will touch, listen to and actually make sounds on many different instruments of the orchestra. They will listen to talented guest students and concert musicians on a variety of instruments, ask questions, and have questions answered. Classes will also focus on age-appropriate music fundamentals using rhythm, notation and conducting games with a variety of small percussion instruments. Each semester includes a theatrical live performance of excerpts from Prokofiev's "Peter and the Wolf", instrument recognition contests (where everyone wins) and supplementary reading materials.
Ages 6-9
The orchestra is introduced by demonstrations of almost every instrument, in-depth discussions about how each instrument works and plenty of hands on experience. Students will listen to live music and recordings and begin to recognize different genres and composers. This is the perfect first music history supplement for any student already studying an instrument, or an ideal class for those students trying to decide what new instrument to learn.