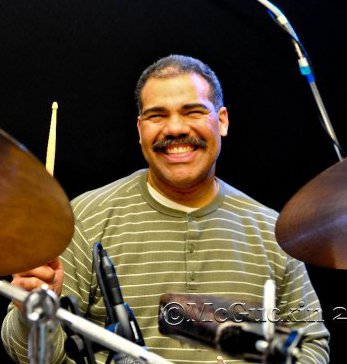 "Ricky Martinez might be the happiest drummer in the world." That's what people always say when they see my big smile at the drums. My smile means more than even I realize. Drums move me in an almost mystical manner. The early shamans were all drummers you know! They were banging out the rhythms of life as well as music.
I'm presently with The Carl Roa Band and Long Island's own Wonderous Stories. I was with the Sesame Street television show on PBS for sixteen years and you can hear me on The Sesame Street Box CD Set (and any other Sesame Street CD and  DVD since 1994) and "Eternity", Carl Roa's latest effort. I also played for the TV shows "Bump in the Night" and Disney's "The Little Mermaid" which also generated CD's featuring me.
Along with Broadway shows "Metro", "Miss Saigon", Jelly's Last Jam" and "Caroline or Change", I've also had the pleasure to work with Celine Dion, Diana  Krall, Celia Cruz, Gregory Hines, Neil Sedaka, Savion Glover, Donna Summer, Bill Irwin, Tony Bennett, Little Richard, Yomo Toro, Skitch Henderson and Marilyn Michaels.
For you drummers out there, I met the great Louis Bellson back in 1985. We were in the wings of Radio City Music Hall as he was about to play with Benny Goodman. He asked me if I was a drummer, I said yes and he immediately said, "I've been playing with these sticks by a new company. What do you think?" He was talking shop! I was floored that someone with decades of experience and knowledge still carried on with such exuberance about finding new sticks. We talked about drumheads, cymbals and drums of course. Maintaining that youthful exuberance is why I smile. There's always more to learn and know. Don't stop learning, don't stop drumming and keep smiling!