Teacher Feature: Arnaud Ghillebaert
Things are back in full swing here at Great Neck Music Conservatory. We are welcoming new faces and gearing up for some incredible performances. There is a lot to look forward to this year and we thought it would be a perfect opportunity to catch up with some of our faculty and students to see whats in store! I sat down with string teacher Arnaud Ghillebaert to see what he has been up to.
Arnaud is from P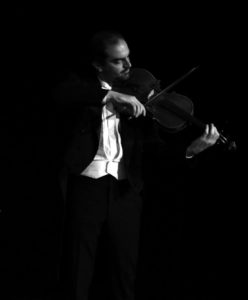 aris, France and still actively performs there with his chamber ensemble "The Elsewhere Ensemble." During our conversation, I learned that Arnaud's ensemble regularly features spoken words and monologues in the language of the country where they happen to be performing. This summer, they were in Paris and Lebanon. Arnaud spoke to me for a while about what teaching at Great Neck Music Conservatory means to him and he said that he "loves the feel of the community and learns a lot from his students." He enjoys seeing the recitals and is always proud of the progress his students are making. We spoke about how warm and personal the experience of being on faculty here at GNMC is and agree that it is a very special place.
Check out our Q & A below to learn more about what makes Arnaud an incredible musician and a great teacher!
Has an influential teacher of yours given you any words of wisdom that would be helpful to the students at GNMC?
One of my violin teachers taught a lot using the Feldenkrais method principles. Feldenkrais is a body awareness method, that helps me a lot when figuring out what I do and why I do it, in music playing. One of the key principles is the idea of habits. The brain is wired a certain way, and it can be very hard to change it. If a position that induces tension is integrated by a student, it can be very helpful to show them what a less strenuous position can be, then go back and forth between the habitual position and the more efficient one.
How did you choose your instrument?
I chose to play the violin because I heard my grandmother play when I was 3 years old. From then on, I beed my parents to play the violin, and had to wait until age 7 to start because the local music school didn't accept younger students.
What repertoire are you working on now?
I am now working of 20th century music for violin and viola, mostly French music: Ravel, Enescu, Bartok, Milhaud, and contemporary composers as well: Graciane Finzi and Nicolas Bacri. This is all for my doctoral final recital.
Who is your greatest musical inspiration?
My greatest musical inspiration is Ginette Neveu, a French violinist who died in 1949 in a plane crash, still pretty young. She was going to have a really successful career. The few recordings that she did are incredible. The intensity of her playing is really touching.
Thanks so much for chatting, Arnaud!
Emilia Donato is a voice teacher and blogger at Great Neck Music Conservatory! She is a lyric soprano from Brooklyn, NY who studied at Bard College and New England Conservatory. During her spare time she loves to read, study baroque ornamentation, paint and knit.